San Juan Ostuncalco
Quetzaltenango, Guatemala
Located 15 kilometers west of Xela, San Juan Ostuncalco is a prosperous town with many small industries, including an embroidery workshop.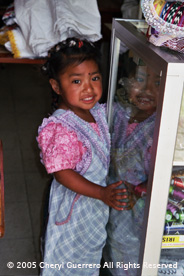 Small children of workers at the Guipil de Nebáj workshop are allowed by owner Julian Ulin to be nearby under the group's watchful eyes, solving the child care problems of young workers. Photo by Cheryl Guerrero 2005.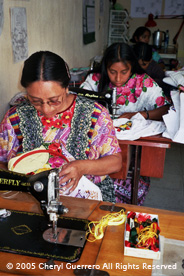 Some workshops do both machine and hand embroidery, as in the workshop Guipil de Nebaj in San Juan Ostuncalco. Photo by Cheryl Guerrero 2005.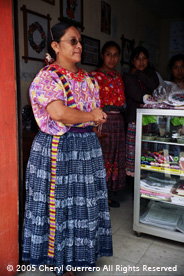 The traje of San Juan Ostuncalco often includes colorful randas or embroidered bands that join panels on both huipiles and cortes. Photo by Cheryl Guerrero 2005.
Locations in Quetzaltenango: