Concepción
Quetzaltenango, Guatemala
Located 15 kilometers northwest of Xela, Concepción is a busy agricultural community. While most children now attend at least a few years of elementary school, many young girls still learn to weave their own clothes at home.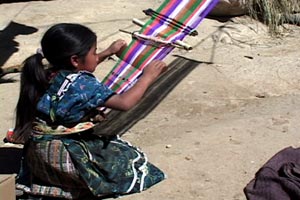 María Eugenia Lopez, 9, proudly worked on her second weaving sampler in the family compound. Photo by Kathleen Mossman Vitale 2005.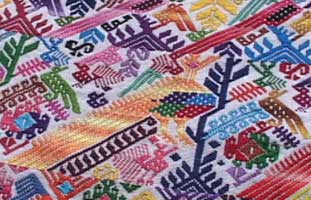 This is a back strap loom woven panel for a huipil in a design popular in Concepción. Photo by Kathleen Mossman Vitale.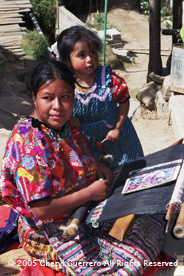 Julia Lopez follows a printed pattern as she weaves in the family compound with her youngest daughter nearby. Julia, 19, had her first child at age 11. Photo by Cheryl Guerrero 2005.
Locations in Quetzaltenango: