San Juan Chamelco
Alta Verapaz, Guatemala
Weaving on a back strap loom is an economic activity still practiced by many Maya women in the highlands. The small earning from hand weaving helps them support their families. Their own everyday attire, however, is often inexpensive machine-made items purchased in markets.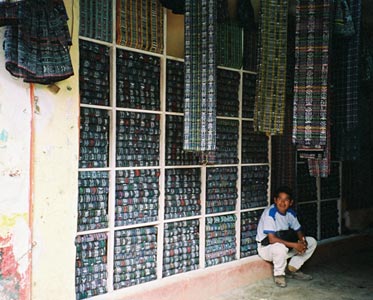 Most Maya women in Guatemala wear cortes or skirts of jaspe or ikat fabric. The textile is made from thread that is bundled, tied and dyed prior to weaving. Sololá and Totonicapán are centers for jaspe production. Vendors throughout the highlands sell a plethora of jaspe textiles. Photo by Margot Blum Schevill 2005.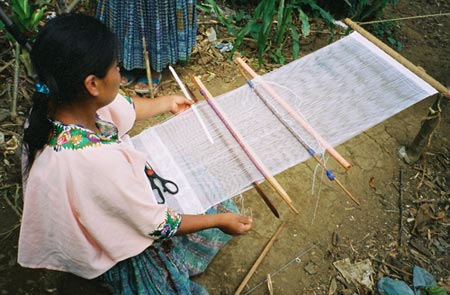 Mercedes Tzib weaves a textile of alternate bands of plain weave with supplementary weft brocaded ducks, and bands of twisted, spaced weave. She uses two chocoys or shed rods on her back strap loom, and a goat bone needle for pickup work. Photo by Margot Blum Schevill 2005.
Locations in Alta Verapaz: