San Antonio Aguas Calientes,
Sacatepéquez, Guatemala
Some of the finest back strap loom weaving in Guatemala is from San Antonio Aguas Calientes in Sacatepéquez, where huipiles are covered with double faced bird and flower designs, as well as single-faced rows of geometric designs.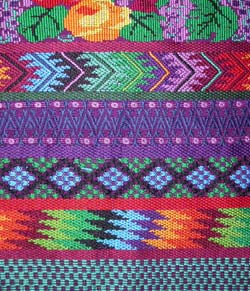 Woven by Esperanza Lopez of San Antonio Aguas Calientes in 2005, this huipil took three months of intense labor to complete. Photo by Kathleen Mossman Vitale 2005.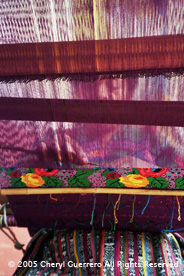 Back strap weaver Esperanza Lopes weaves in her home in San Antonio Aguas Calientes. The shoulder portion of the huipil is double faced supplementary weft brocade. Photo by Cheryl Guerrero 2005.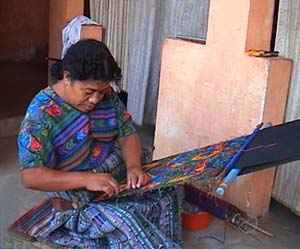 Esperanza Lopez clips dangling supplementary weft threads from a huipil or blouse panel woven on a back strap loom in the style of her community. Photo by Beth Riley 2005.
Locations in Sacatepéquez: