Antigua,
Sacatepéquez, Guatemala
The colonial city of Antigua is a major tourist destination in Guatemala and offers endless opportunities to purchase weavings from many different departments. The best local weaving is from nearby San Antonio Aguas Calientes.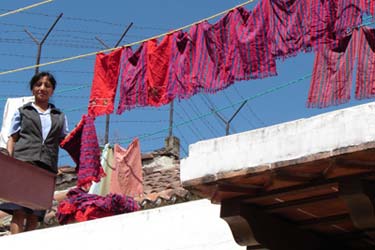 Hand loomed textiles brought in from highland communities are washed, dried, ironed and sorted for quality at Culibrí in Antigua. Owner Vey Smithers has worked for decades with indigenous communities to develop marketable products while maintaining their style of weaving.Photo by Denise Gallinetti 2005.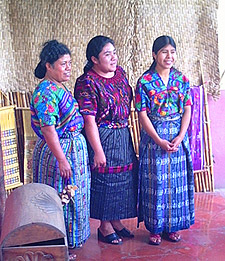 The Museo del Tejido in Antigua offers displays of traje from around the highlands. Esperanza Lopez (left) wove the huipil worn by Delmy Aramilda Sotz Lopez (right). Aida Maritza Lopez models a new huipil, corte and belt from Chichicastenango. Photo by Beth Riley 2005.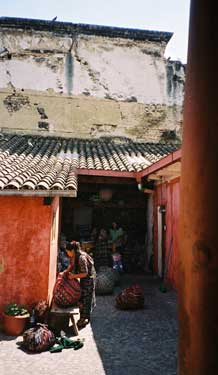 Culibrí, an upscale shop in Antigua that sells back strap and floor loomed products, has a rigid system of quality control. Selected groups of indigenous weavers bring in their work to be checked, and return home with thread and instructions for additional products, like placemats and coasters. Photo by Margot Blum Schevill 2005.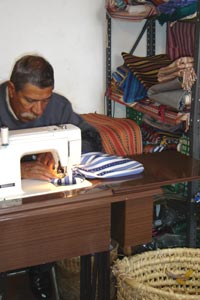 Oswaldo Moreira Mendes, a longterm employee of Culibrí in Antigua, sews back strap loomed fabric into carrying bags. Photo by Denise Gallinetti 2005.
Locations in Sacatepéquez: