Alta Verapaz, Guatemala
The department of Alta Verapaz boasts alpine meadows, pastures, coffee and cardamon plantations, steep green hillsides, limestone caves and a variety of weaving styles, including the ancient, diaphanous, white on white pikb'il style.

This three-panel red and white huipil or blouse is a traditional design of Tactíc, a Poqomchi-speaking community 28 kilometers from Cobán. Photo by Kathleen Mossman Vitale 2005.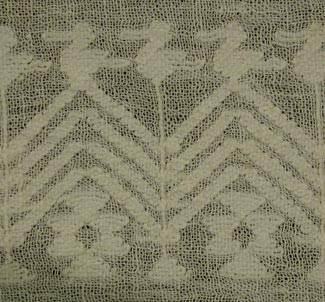 Pikb'il, an ancient style of back-strap weaving, is still practiced by a few dozen Q'eqchi' women in the cloud forests of Alta Verapaz near Cobán. Designs are formed by supplementary weft brocading on the balanced, spaced-weave. Photo by Kathleen Vitale, 2005.
Locations in Alta Verapaz: