San Rafael Petzal
Huehuetenango, Guatemala
Located on the Pan American Highway in the department of Huehuetenango, some residents around San Rafael Petzal still maintain traditional back strap weaving styles and dress.

This young girl wears the traje or clothing still typical of the area around San Rafael Petzar, with burgundy skirt and huipil or blouse. Photo by Paul G. Vitale 2005.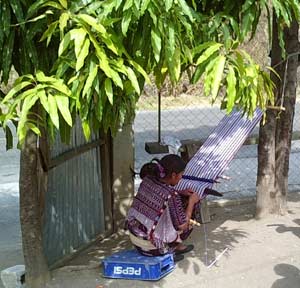 About 25 kilometers west of the city of Huehuetenango, near the community of San Rafael Petzal, Elena Domingo Mejía finds a shady spot near the Pan American Highway to weave. Photo by Paul G. Vitale 2005.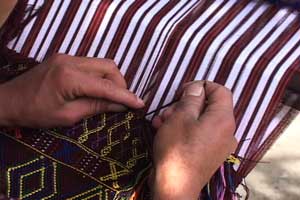 Elena Domingo Mejía weaves a huipil panel with supplementary weft brocade designs in the style of her community, San Rafael Petzal, in Huehuetenango. Photo by Kathleen Mossman Vitale 2005.
Locations in Huehuetenango: