San Juan Cotzal
Quiché, Guatemala
As part of the Ixil triangle, San Juan Cotzal still suffers extreme hardships brought on by the Civil War, as well by its distance from popular tourist markets. Many war widows still struggle to support themselves on meager earnings from their weavings.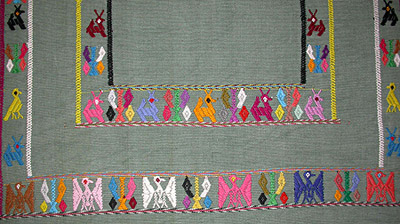 This textile was woven on a back strap loom and sold by the Grupo María Nazareth in San Juan Cotzal. The designs are supplementary weft brocading. Photo by Kathleen Mossman Vitale 2005.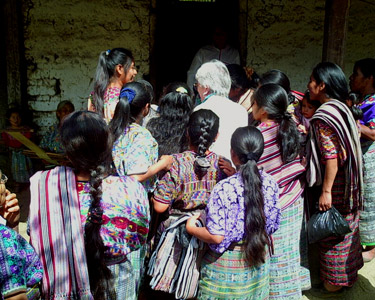 Videotaping weavers in indigenous communities is both a joy and a challenge. In San Juan Cotzal local weavers excitedly crowd around to peek at the viewfinder when the camera is focused on the weaver's hands. Photo by Paul G. Vitale 2005.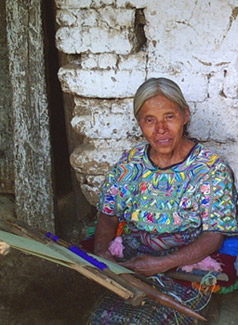 Inez Perez, a widow from the 36-year civil war, wears a huipil or blouse in a style common in San Juan Cotzal. She wove her huipil on a back strap loom. Photo by Paul G. Vitale 2005.
Locations in Quiché: