Patzicía
Chimaltenango, Guatemala
With improved roads and mass communications, weavers are exposed to styles from communities other than their own. Nowadays, some Maya weavers follow printed patterns and produce textiles of many different styles.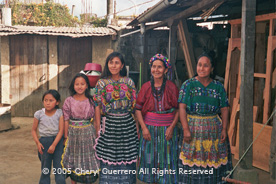 Matron Patrona Pichiyà, Patzicía, has taught both her daughters, Pilar and Santa, to weave on a backstrap loom. They, however, often choose to weave and wear styles of other communities. Photo by Cheryl Guerrero 2005.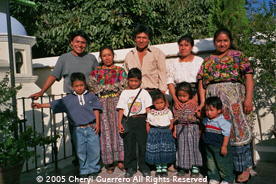 Driver and guide Fernando Pichiyà (left) is pictured with his extended family from Patzicía. Photo by Cheryl Guerrero 2005.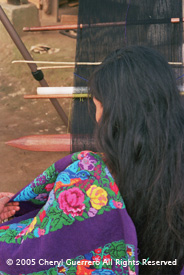 Pilar Gomez, Patzicía, weaves on a back strap loom from a pattern printed on a grid of a style traditionally associated with San Antonio Aguas Calientes. Photo by Cheryl Guerrero 2005.
Locations in Chimaltenango: