Chimaltenango, Guatemala
This agriculturally rich department, bisected by the Pan American Highway, includes numerous communities where indigenous weaving is still practiced.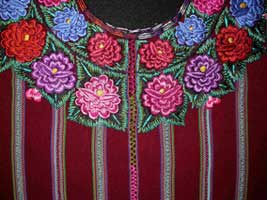 This Patzún-style huipil was woven in 2005 by Gregoria Rucuch Cumes. She used a back strap loom to weave the burgundy fabric, and then had the neck cut out and hand embroidered. Photo by Kathleen Mossman Vitale 2005.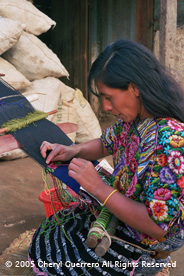 Pilar Gomez, Patzicía, kneels to weave on her back strap loom. Pilar enjoys weaving and wearing styles from many different communities in Guatemala, not just her own. Photo by Cheryl Guerrero 2005.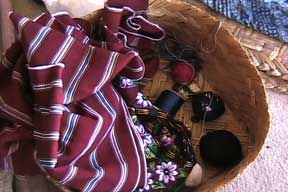 A Patzún-style huipil made by Gregoria Rucuch Cumes awaits completion of the embroidery around the neck. Photo by Kathleen Mossman Vitale 2004.
Locations in Chimaltenango: