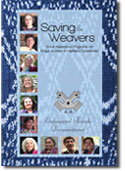 Saving the Weavers: Small Assistance Programs
for Maya Women in Highland Guatemala
Restacando los Tejedores: Pequeños Programas de Asistencia para Mujeres Mayas en el Altiplano Guatemalteco
Narrator: Lina del Roble
Running time: 43 minutes
Meet ten extraordinary people who have dedicated years of their lives to helping Maya women devastated by the 36-year Guatemalan Civil War, and learn about the assistance programs they set up.
The 36-year Civil War (1960-1996) decimated the indigenous Maya population of Guatemala. Many of those who survived were widows without any means of support for themselves or their children. This documentary focuses on ten extraordinary people who saw the desperate need and dedicated years of their lives to establish small assistance programs and find markets for products made by Maya weavers.
Italian-Guatemalan-American Brenda Rosenbaum and her late husband Fred formed Mayan Hands in Guatemala City. American weaving expert and teacher Deborah Chandler subsequently joined the organization as the in-country manager. The late Jane Mintz of San Francisco founded Maya Traditions in Panajachel, Guatemala, and enlisted help from American Martha Lynd. Vey Smithers, an American from the east coast, opened the store Colibrí in Antigua, Guatemala. The late Maya leader Alida Pérez founded a large artisans guild in San Antonio Aguas Calientes, and opened a Maya textile museum and store in Antigua.
Candis Krummel left a job on capital hill in Washington, DC, and headed to Santiago Atitlán, Guatemala, where she co-founded the Cojolya Association. María Concepción Cuc, a Maya working as a community organizer in Guatemala, moved with her husband, American Felipe Gonzales, to Washington State, where they run Internet businesses. And, Pedro Marroquín, a young Maya born and raised in the Ixil Triangle, worked his way up to direct Codearteco, an assistance program for widows and orphans of the Civil War in San Juan Cotzal, Guatemala.
The documentary includes interviews with the program founders and staff, and scenes of beneficiaries in highland Guatemala. It also provides background information on the devastating Civil War and how it affected Maya women and their children.
2010 Emmy award winner Christopher Hedge, widely known for his innovative approach and cultural sensitivity in PBS documentaries, composed original music for Saving the Weavers. Hedge is the creative genius at The Magic Shop in South San Francisco. He also composed music for the ETD documentaries A Century of Color: Maya Weaving & Textiles and Manuela & Esperanza: The Art of Maya Weaving.
Voice-over artist Lina del Roble translated the script and narrated the documentary in both English and Spanish. Del Roble is a multilingual voice talent from the San Francisco Bay Area.
---
Testimonials and reviews:
"What a great job you've done celebrating the important and empowering work of these amazing and dedicated women and cooperatives. Very inspiring. And it brought back such fond memories of the wonderful people I knew when I lived in Guatemala (1995-97)."
--Chris Curnow
Wembley, Western Australia
"As in all ETD documentaries, the camera work is superb, bringing the stories to life; and the interviews are extremely informative. The interviews concisely and clearly answer questions that viewers may have, giving us a taste of what's involved in the ongoing work of the groups represented in this documentary. The documentary acts as a teaser, leaving us curious for more information and wishing to participate in these programs to help save the weavers in any way possible."
--Deborah Brandon
WARP Governing Board Member
WARP newsletter, Fall 2010

"The film is strong, moving and important."
--Jeff Goldman
Executive Director, Fair Trade Resource Network