Filming the fabric of life
Experts record Mayan process of weaving on backstrap loom
By RICHARD FREEDMAN/Times-Herald staff writer
October 16,2005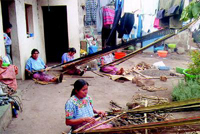 WOMEN of the Cojolya Association of Weavers in Santiago Atitl n, Solo , Guatemala, work on backstrap looms in a family compound. (Grant E. Vitale/Endangered Thread Documentaries)
Ancient Guatemalan cultures have not yet been featured in a Nike "Just Do It!" commercial, but the time may not be far off.
And that's the concern of anthropologist Margot Blum Schevill and the husband-wife team of Paul Vitale and Kathleen Mossman Vitale.
Economic globalization and homogenizing of societies may leave the unique Mayan ability of weaving dangling precariously, and the above trio have set out to secure a future for the Central American people.
"Splendor in the Highlands: Maya Weavers of Guatemala," is a 27-minute documentary highlighting the indigenous weaving.
Videographer Kathleen Vitale recorded the footage during a 2004 trip to Guatemala. Schevill, a Berkeley textile scholar, introduces viewers to 22 weavers, showcasing immense talents that can't be replicated by any department store.
"It's just incredible what they can do," said Paul Vitale, a retired city planner. "It's such a major part of their life. Sitting, weaving, all chatting away and doing these intricate designs."
The Vitales and Schevill gathered earlier this week at the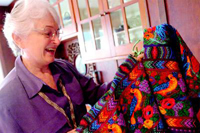 VALLEJO VIDEOGRAPHER Kathleen Mossman Vitale displays a huipil (blouse) woven by Esperanza Lopez in San Antonio Aguas Calientes, SacatepŽquez, Guatemala. (David Pacheco/Times-Herald)
Vitale's 68-year-old Vallejo home, an exquisite house formerly owned by Kathleen's parents.
It was Kathleen's mother, the late Rachael Mossman, who was a textile collector and expert on the subject.
"She could give a two-hour talk on hair ribbons," said a still-amazed Kathleen, who gained a deep admiration for her mother's talents until her death at 92 four years ago.
"My mother was a textile expert," Kathleen said.
The elder Mossman had a 140-piece textile collection that her daughter would eventually donate to the University of California at Berkeley.
At the time of Mossman's death, the Vitales discovered that the university already had 700 pieces of textiles stuffed into drawers and boxes. Many were unidentified and their origins were unknown, Kathleen said.
"There was a lot of work involved in figuring it all out," she said. "That's how we started talking about doing a documentary."
The Vitales witnessed a group of Native Americans checking out baskets, studying how they were made.
"They had lost the ability to make that basket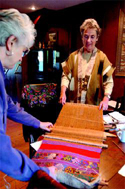 Video documentarian Kathleen Mossman Vitale, left, and Margot Blum Schevill, a textile scholar and anthropologist, unroll a Guatemalan backstrap loom. (David Pacheco/Times-Herald)
and wanted to re-learn," Vitale said. "It's been part of their cultural heritage."
Under the nonprofit umbrella of Endangered Threads Documentaries, "Splendor in the Highlands" was produced and is available via http://www.endangeredthreads.com or by calling 643-7765.
"Our purpose is to document indigenous art forms that are under stress as a result of globalization of the world's economy," Paul Vitale said. "We want to record things so people in the future can go back and say, 'Oh, that's how they used to do it.'"
The Vitales and Schevill spent three months in Guatemala earlier this year.
The country, Kathleen said, "is in terrible straits right now."
Horrible weather, including devastating mudslides, has left many uprooted, she said.
"I've heard from quite a few people that the ones we worked with have survived but a lot have lost their homes," Kathleen said, talking around a table filled with photographs of their Central American journeys while several examples of the brilliant weaving was displayed.
"These are poor people. I don't know how else to say it," Kathleen said. "And what they make is gorgeous and among the finest weaving you can find. It's extremely labor intensive."
There isn't much of anything else to do except weave for the women, though coffee and bananas are two of the major Guatemala exports.
Nearly 200,000 Guatemalans died in a 36-year civil war that ended in 1996.
"You can't imagine the poverty there," Kathleen said. "They've lived a very tough life."
Though some Americans have become conduits to Guatemalans selling their hand-made clothes, "we're selling their story, not their products," Paul said.
The Vitales became interested in the plight of the weavers after meeting in the Peace Corps in 1963. They've since visited Guatemala in 1965, 2004, and this year.
"They live on so much less than we do," Kathleen said. "And all these disasters. There was a hospital that was just finished that was washed away. It's just a devastating tragedy."
So appreciative and respectful of the weaving, Kathleen can't even think of entering a department store to buy machine-made clothes.
"I have enough," she said. "I can't tell you the last time I went into a store to buy (clothes)."
More than just associates appreciate the human made clothes, Schevill said.
"My granddaughter said, 'OK, Margot, now you're going to be in style,'" smiled Schevill. "I'm thrilled."
By turning their visits to a documentary, "we'll reach a larger audience," Schevill said. "We will get out and really tell the story."
"These people make their living out of whatever they have," Kathleen said. "And they are ingenious."
Helping hands:
Guatemala relief funds for urgently needed water, food, clothing, medicine and other emergency supplies are being collected by the following groups:
* * * *
Global Exchange/Guatemala Relief
2017 Mission St., No. 303
San Francisco, CA 94100
(Global Exchange is the fiscal sponsor for Maya Traditions, an organization in Guatemala.)
* * * *
Mayan Hands
12604 West Old Baltimore Road
Boyds, MD 20841
(Mayan Hands works directly with weavers in the highlands.)
* * * *
MoonFlower Enterprises (hurricane emergency fund),
Box 1161
Airway Heights, WA 99001
(The group is co-owned by Maria Concepcion Cuc, a Kakchiquel Maya from Solola and her husband, Felipe Gonzales.)
* * * *
Cojolya Association (relief fund)
8156 N.W. 30th Terrace,
Miami, FL 33122
http://www.timesheraldonline.com/searchpageresults/ci_3122902#