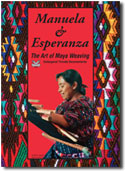 Manuela & Esperanza: The Art of Maya Weaving
Manuela & Esperanza: El Arte del Tejido Maya
Narrator: Lina del Roble
Running time: 29 minutes
Enter into the lives of two accomplished Maya weavers as they accept the challenge of weaving traditional blouses or huipiles in less than 90 days, from the purchase of threads to the last stitch. Manuela Canil Ren of Chichicastenango and Esperanza Pérez of San Antonio Aguas Calientes, Guatemala, expertly share the art of back-strap weaving at its finest and most colorful. They also offer touching insights into their own lives and hearts, as they struggle daily to support their families and keep their culture alive.
The original script for Manuela & Esperanza: The Art of Maya Weaving was written by former ETD intern, Cheryl Guerrero. Kathleen Mossman Vitale adapted the script. Guerrero and Vitale shared the editing responsibilities.
Voice talent Lina del Roble narrates the production in both English and Spanish. Original music is by Christopher Hedge of The Magic Shop of South San Francisco. Guatemalan music is performed by the Trio Sol Naciente of Antigua. Running time: 29 minutes.
The premiere of Manuela & Esperanza: The Art of Maya Weaving was held at the opening of the exhibitionPainted Metaphors: Pottery & Politics of the Ancient Maya, at the University of Pennsylvania Museum of Archeology & Anthropology in April, 2009.
---
Testimonials and reviews:
"(The documentary Manuela & Esperanza: The Art of Maya Weaving) demystifies the difficult concept of backstrap weaving in the indigeneous Mayan culture of the Guatemalan highlands. It is very beautiful and gives insight into the most colorful of Guatemalan traditions."
Kathie Dalessandri, MD
"....Manuela & Esperanza is wonderful! It captures much of what we want to show in the exhibition in terms of the actual steps involved in the weaving process. I especially like the way the film follows the two women and focuses specifically on them."
Gabrielle Vail
Professor of Anthropology, New College of Florida Curator,
Woven Threads Through Time: Maya Women, Weavers, and Their Stories
Weedon Island, Preserve Cultural & Natural History Center, St Petersburg, Florida
"I'm finally back from Europe and had the pleasure of watching your beautiful film (Manuela & Esperanza: The Art of Maya Weaving) over the weekend with my wife. It is a wonderful film, beautifully shot and sensitively edited. Congratulations."
Dr. Allen J. Christenson
Department of Humanities, Classica & Comparative Literature
Brigham Young University
Provo, Utah