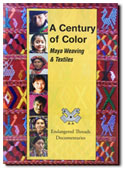 A Century of Color: Maya Weaving & Textiles
Un Siglo de Colores: Los Tejidos Mayas
English Narrator: Cheryl Guerrero
Spanish Narrator: Marta Lucía Beltrán
Running time: 53 minutes

Surveys 100 years of continuity and change in Maya weaving and textiles of Guatemala. It begins with the 1902 Gustavus Eisen collection of photographs and textiles at the Phoebe Hearst Museum of Anthropology, University of California, Berkeley, and continues through the century with stunning examples of blouses, skirts, belts, hair ribbons, men's wear, ikat and embroidery.
The viewer is introduced to the effects of cultural changes brought about by the following: the recent 36-year Civil War; introduction of Spanish language in rural schools; proliferation of mass media; increased tourism and artisan organizations; changes in the role of women; pressure from a globalized world economy; and importation of vast quantities of cheap, new and used clothing.
Original music was composed by Christopher Hedge, with sound by The Magic Shop. Margot Blum Schevill and Kathleen Mossman Vitale wrote the script. Schevill is an anthropologist, textile scholar, exhibition curator and author. Vitale lived in Latin America for 13 years, including two years as a Peace Corps Volunteer. Her career was in journalism, photography and high tech publications. She began producing documentaries in 1998, after retiring from IBM. Her documentaries include C S Price: Modernist Painter in Search of Spirit and Blossoms from the Mud: The art of Wang Gongyi (in English & French versions). All her subsequent documentaries and videos are on the Youtube Endangered channel.
---
Testimonials and reviews:
Pacific Northwest Council for Languages - Lingo Vol. 8 No. 3, May 2008, page 9 Material Review: A Century of Color By Bridget Yaden, PNCFL President
"Hearing and seeing the cultural and linguistic diversity of Guatemala is important for students." Kathleen Mossman Vitale, co-founder of Endangered Threads Documentaries, recently sent PNCFL a copy of the documentary A Century of Color: Maya Weaving & Textiles. I found the documentary to be beautiful and professional. It provides insight into the history of the Mayas of Guatemala as told through their weaving and textile art forms. The audio and video are of excellent quality, and the narration both in Spanish and English is clear and informative. A scholar and a journalist co-authored the script.

The video is fifty-three minutes long, and you can chose to hear the narration in English or in Spanish. All of the direct interviews with Mayas are in Spanish with English subtitles, and interviews with English speakers have Spanish subtitles. From the menu screen, you can chose to watch only a particular category, such as looms, blouses, skirts, belts, or men's wear, or you can watch the documentary all the way through. The documentary highlights the large collection of Mayan textiles at the University of California-Berkeley Museum of Anthropology, numerous interviews, and different locations in Guatemala.

The introductory clip on the history and diversity of Guatemala is an excellent resource in and of itself. This clip could be part of a unit on Guatemala specifically or Central America in general and could be shown in English or in Spanish, depending on students' abilities. I would definitely use this video with language students and ask them to answer comprehension questions. The introductory clip also includes audio examples of several different indigenous languages, so students can hear the linguistic diversity of this country. Hearing and seeing the cultural and linguistic diversity of Guatemala is important for students of all levels to better understand the multiple facets of "Spanish-speaking" countries. For history or cultural studies, this documentary is an exceptional resource on Guatemala.

After the introductory historical segment, the remaining chapters of the video deal with specific articles of clothing. Although I would not expect my students to become experts on Guatemalan belts or hair ribbons, the individual clips on the history of each article of clothing could be used as learning tools in other ways. For learning or reviewing color vocabulary, for example, the video clips could be watched with the sound off, and students could describe in Spanish what they see. The bright colors and varied articles of clothing are a culturally diverse way to teach color and clothing vocabulary.

Viewing this video brought back memories of my own visit to Guatemala in 2003. I had purchased a huipil (blouse) that hangs in my office, which often becomes a conversation starter for students. With interest, I watched the video section on the history of the huipil in several communities in Guatemala. This documentary will be a great addition to my cultural lessons on Guatemala and complement a PowerPoint presentation I developed using photos and regalia I gathered during my own travel.
Shuttle, Spindle & Dyepot - Periodical of the Handweavers Guild of America
Spring 2008, page 13, Books & Video section
A Century of Color: Maya Weaving & Textiles (DVD), by Endangered Threads Documentaries, 1530 Tuolumne Street, Vallejo, CA 94590, 2007, 53 minutes, $25 including shipping.

This extraordinary bilingual (English/Spanish) DVD speaks to a wide audience, but it is especially suited for those interested in fiber history, weaving, and the Maya of Guatemala. The overall theme is continuity and change in Maya clothing over the centuries, but the focus is on the twentieth century, specifically, "What has changed—and why?"

The DVD is organized into eleven chapters that focus on history, tools, and techniques, along with a variety of women's and men's everyday and ceremonial clothing being made and worn. There is so much packed into this quick-paced DVD that it may be too much to take in at one sitting. Fortunately, the well-organized chapters are easily accessed for viewing separately.

Numerous incredible textiles and photographs from the 1902 Eisen Collection of the Phoebe A. Hearst Museum of Anthropology, University of California/Berkeley, are compared with later pieces throughout the presentation.

The articulate narration was scripted by Margot Blum Schevill, a well published textile scholar and exhibition curator, and Kathleen Mossman Vitale, a filmmaker and former journalist. Original music, insightful interviews, and informative captions make it both entertaining and a valuable research tool. The helpful credits at the end include the names of the weavers and embroiderers, as well as museums, along with the catalog numbers of the pieces and photographs shown.

The fabulous accompanying footage of ikat tying and dyeing, backstrap and foot loom weaving, brocading, and embroidery from many diverse highland Maya communities is very professionally presented. Obviously produced by people with an intimate knowledge of Maya textiles, the images depict some of the most complicated backstrap weaving techniques, including how to finish a cloth with four selvedges. From pre-Columbian times to the present, we are shown and told about ancient textiles, the changes introduced during the Colonial period, and how new dyes, raw materials, and local fashion trends have contributed to changing styles over the years. Economic necessity and racism are rightfully blamed for the trend away from traditional dress.

I highly recommend this DVD. A Century of Color is a feast for the eyes!


--Reviewed by Carol Ventura
Cookeville, Tennessee
"(A Century of Color: Maya Weaving & Textiles) is wonderful. What a great collection; to have these incredible historic images is of such interest and importance. You have done a superb job gathering and comparing this material… Weaving is such a living, vital part of village life and it is a sorry day to see it pass. In another generation or two, the textiles will become museum displays and hopefully also will be kept as cherished family remembrances. So we are grateful to have seen them and now to have your documentary to enjoy."
--Barbara & Justin Kerr
MAYAVASE
(Three photos of Precolumbian ceramic figurines of weavers by New York photographer Justin Kerr are included in the documentary.)
"I very much enjoyed watching the documentary - the photography, excellent weaving footage and interweaving of scholarly and historical information was all beautifully presented, concise, and highly informative."
-- Jamie Marshall, Curator
The Guatemalan Maya Centre
London, England
"We had a meeting of the (indigenous) leaders of all our groups…and showed them your movie (Century of Color). They were entranced!"
-- Deborah Chandler
In-country director
Mayan Hands
Guatemala
"A Century of Color: Maya Weaving & Textiles is quite enriching in revealing the Maya culture and history of textiles."
-- Sandy Fong
San Francisco